New Cardboard Cathedral announced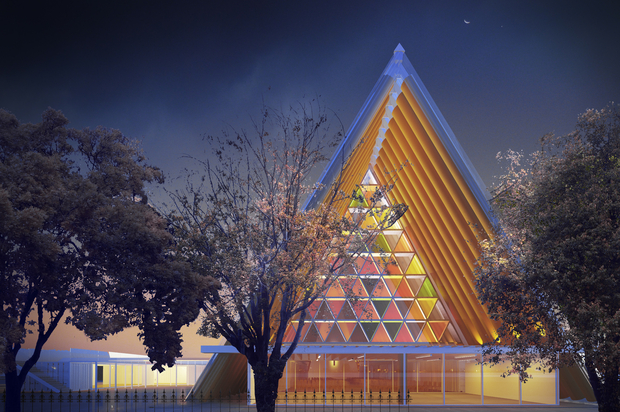 http://www.nzherald.co.nz/nz/news/article.cfm?c_id=1&objectid=10799262
A "temporary" Anglican cathedral will be constructed on the St John's site on Latimer Square, overlooking the CTV site. (In Christchurch "temporary" means about 20 years or so).
Actually I quite like the look of this design. It's not the same as what's been lost, but it's uplifting.
There's been a bit of debate going around about the de-construction of our Anglican Cathedral. The Bishop has come under a lot of criticism – and some of it seems to be getting quite venomous and personal. One of the most vocal opponents is the Christchurch Wizard, who claims to have spoken curses against the Bishop and Church leadership.
I was always taught that in intelligent debate, when one side resorts to personal attack, it's often a sign of lacking rational argument.
I was pleased to hear about this:

http://www.stuff.co.nz/the-press/news/christchurch-earthquake-2011/6682160/Church-leaders-back-bishop
An open letter of support from 70 churches and Christian organisations was presented to the Anglican Bishop of Christchurch. The photo shows ministers from Pentecostal, Baptist and Brethren churches, as representative of the many denominations.
As a city we need to work together, with unity, as we rebuild. I found it encouraging to see the unity of Christian Churches working together. A lot of this is "below the radar" and "behind the scenes", but in my own opinion, if it wasn't for the Christian Churches in this city working together in the aftermath of the earthquakes, we'd have been in a lot worse state city wide.
Yet these feeling of hope are clashing with a more sobering news issue:
The "New Homelessness"
There have been stories emerging of lower income tenants being pushed out of the rental market, as a shortage of available rental homes, an influx of tradespeople working on the rebuild, and displaced homeowners moving out of "red-zoned" houses. Rents are becoming more than many people can afford. When houses become available, 20 or 30 prospective tenants will apply, and often begin trying to outbid each other.
Here are three stories that have been in the press this week.
http://www.stuff.co.nz/the-press/news/christchurch-earthquake-2011/6727057/Citys-rental-crisis-at-breaking-point
http://www.stuff.co.nz/the-press/news/christchurch-earthquake-2011/6734583/Rental-shortage-State-must-step-in
http://www.stuff.co.nz/the-press/news/christchurch-earthquake-2011/6747464/Families-turn-to-renting-garages
I am also personally aware of others that haven't been reported, but are in similar circumstances. My concern is that the reported stories are just the tip of the iceberg. My fear is that it will only get worse. While there is political debate about this, politics can't magically make houses appear, and winter is only a month or so away.
And just announced today:
Temporary closure of the Museum
http://www.canterburymuseum.com/news/43/temporary-closure-of-the-museum
When I put it into the perspective of everything else happening in my City, the closure of the museum may not seem to be such a big deal, but it's the cumulative effect that's upset me. Just when it feels like life is starting to come back to some kind of normal, it's a reminder that there is no more "normal" here.
I am powerless to do anything about all of this, but pray for my City. And to ask all of you to pray for Christchurch. There is still a marathon ahead of us.